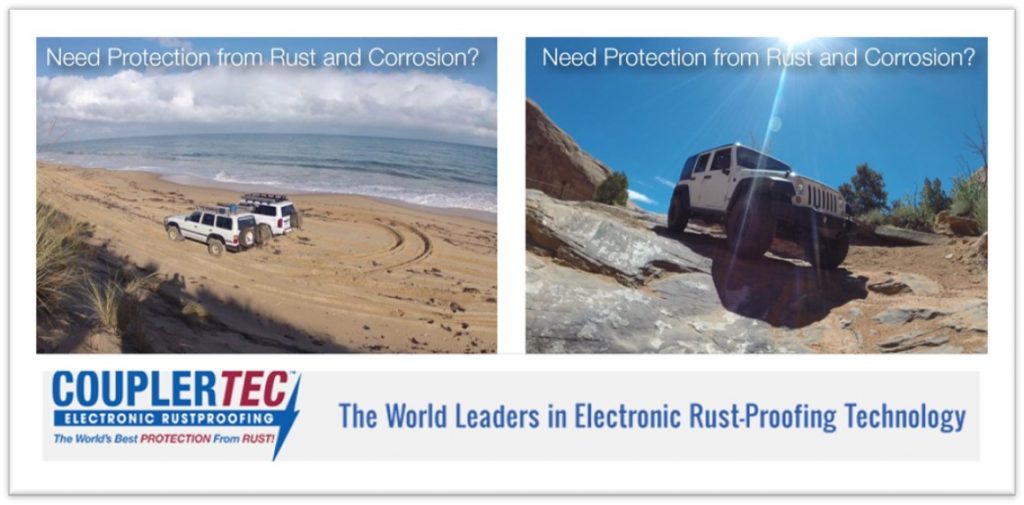 MGM4x4 provide access to the World leaders in electronic rust proofing. Coupler Tec Electronic Rust Proofing provide many benefits for our region in Far North Queensland.
Our trade professional team can complete all Coupler Tec Electronic Rust Proofing in store for you.
Why we believe Coupler Tec is the best for your vehicle

10 year corrosion warranty
Conditional Warranty is applicable for a period of up to Ten (10) years and is also upon no pre-existing rust or corrosion damage and no indication of any impending rust damage or evidence thereof.

Greater Vehicle Re-Sale Value

Due to your vehicle being protected from & having NO RUST, your re-sale value increases when the time comes for selling your asset.

Reduce Vehicle Maintenance Costs

Paintwork will remain shiny and looking like new for longer with an active rust proofing system working and protecting the vehicle, no rust and corrosion is enabled to "take hold".

Stops Paint Work from Oxidising

CouplerTec Systems keep paintwork looking like new for longer thanks to the constant minute current flow regenerating and protecting the vehicle from rust and corrosion.

Environmentally Friendly

Unlike toxic, and potentially harmful conventional sprays and coatings that need to be reapplied on a regular basis, a CouplerTec system is a once only investment and looks after our environment in Far North Queensland or where ever you may venture.
Visit Coupler Tec site to discover more
https://www.couplertec.com.au
Contact us via
In Store: 172 Edith Street, Innisfail
Phone: 07 40612629
Web : https://mgm4x4.com.au
Email: mauricegrassomotors@gmail.com
Contact Page: Contact Us
Facebook: MGM4X4 on FB