Ironman 4x4
Ironman 4×4 products are designed in Australia and distributed throughout the world.
We are proud to bring these products to the Cassowary Coast. On road or off the beaten track, Australia's first choice for 4×4 Suspension and Accessories is Ironman 4×4. Whether you use your 4×4 as a family vehicle or as an off road explorer, Ironman 4×4 has the products that will deliver the comfort and safety you demand.
Ironman 4×4 products have been developed in the harshest proving ground in the world, Australia. Sold in more than 120 countries. For over 50 years customers have put their trust in Ironman 4×4 because Ironman 4×4 delivers quality and value for money. From camping gear to all 4wd accessories, recovery equipment to 12v winches.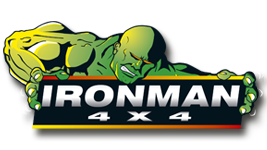 Visit their website @ http://www.ironman4x4.com/ or...
Contact us via
In Store: 172 Edith Street, Innisfail
Phone: 07 40612629
Web : https://mgm4x4.com.au
Email: mauricegrassomotors@gmail.com
Contact Page: Contact Us
Facebook: MGM4X4 on FB